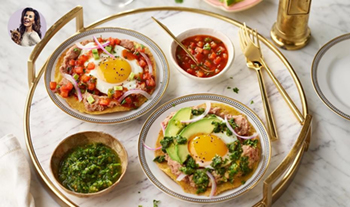 Ingredients:
8 small corn tortillas, approximately 6" wide
4 tsp. butter, divided
8 large EGGS
salt and pepper
2 cups prepared refried pinto beans, warmed
½ cup tomatillo or green salsa
½ cup tomato or red salsa
½ cup thinly sliced red onion
½ cup coarsely chopped fresh cilantro
Directions:
BAKE tortillas in single layer on large baking sheet in preheated 400ºF oven for 7 to 10 minutes or until crispy.
HEAT half of the butter in large nonstick skillet set over medium-high heat until just melted. For Sunny-Side Up, Over-Easy or Over-Hard Eggs: BREAK 4 eggs and slip into skillet 1 at a time. Immediately REDUCE heat to low.
COOK eggs for about 5 minutes or until whites are completely set and yolks begin to thicken but are not hard. SERVE as is or flip eggs over carefully and cook to desired doneness. SPRINKLE eggs lightly with salt and pepper. (Repeat with remaining butter and eggs, or prepare all 8 eggs at once in 2 large nonstick skillets or on one large flat griddle.)
SPREAD warm refried beans evenly over tortillas. SPOON tomatillo salsa over half the tortillas and tomato salsa over remaining tortillas. TOP each tortilla with 1 fried egg. TRANSFER one of each salsa-topped tortillas to 4 plates and garnish with red onion and cilantro. Serve immediately.
INSIDER INFO
Mix 1/4 cup sour cream with juice from one fresh lime juice and drizzle on top of eggs right before serving.
Garnish with chopped avocados and lime wedges.
Prepare recipe with refried black beans instead of the pinto beans if desired.
Per 1/4 of recipe
Calories: 370
Total fat: 15 g
Saturated fat: 6 g
Polyunsaturated fat: 1 g
Monounsaturated fat: 1 g
Cholesterol: 380 mg
Sodium: 900 mg
Carbohydrates: 36 g
Dietary fiber: 1 g
Protein: 1 g
Sugar: 5 g
Vitamin A: 206 mcg
Vitamin D: 2 mcg
Folate: 8.8 mcg
Calcium: 111 mg
Iron: 4 mcg
Choline: 323 mg
Potassium: 656 mg
This recipe is an excellent source of vitamin A and iron and a good source of potassium, calcium and vitamin D.
Recipe Source